Counsel Public Affairs has launched a polling practice called Counsel Research. As part of our inaugural June 2021 poll, we dove deep into issues surrounding COVID-19 and governments' performance.
By far, our biggest surprise in reading the data was the fact that COVID-19 is no longer the most important health priority.
We asked Canadians to select up to five of their most important healthcare issues from a list of sixteen. COVID-19 response was the fourth most popular selection, with 36% of participants indicating it was in their top five issues. The top three healthcare issue selections were mental health, selected by 49%, wait times for surgeries, selected by 47%, and support for long-term care facilities, selected by 37%. Notably, the top three issues selected by voters are directly connected to governments' COVID-19 response across the country.
As vaccination rates continue to rise and public health restrictions ease, we can expect to see COVID-19 drop further.
As for Prime Minister Justin Trudeau's handling of the COVID-19 pandemic, overall, 57% of Canadians believe that he is doing a good job at managing Canada's response to the crisis. This number decreases to 24% for Conservative Party core supporters (those who voted Conservative in the last election and plan to do so again). However, when considering swing voters (those who would consider switching votes) for both the Conservative Party and New Democratic Party, that number increases to over 60%.
We conclude that while overall pandemic performance is a good tool for fundraising for the Conservative Party from their own members, using it as a political strategy to win more votes and expand their voter base risks alienating 6/10 of swing voters.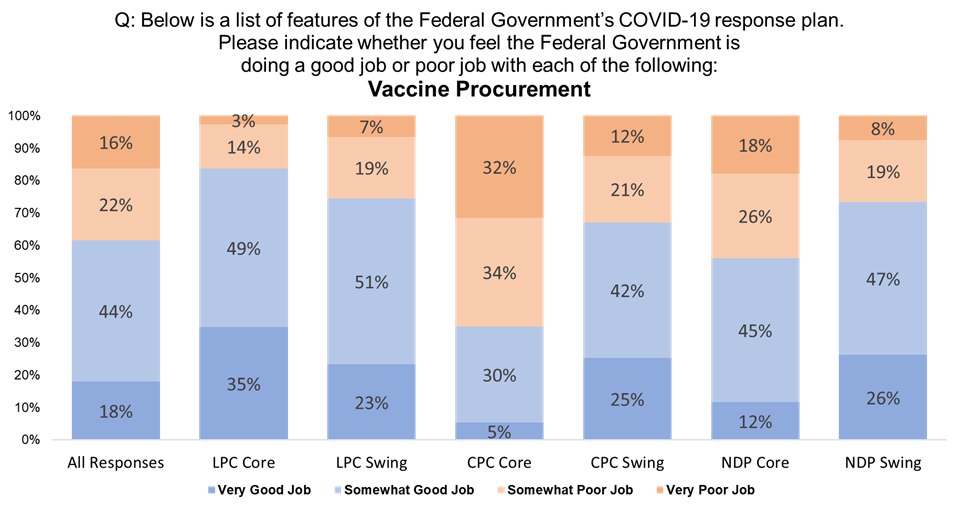 When we explore specific aspects of the pandemic response, the federal government gets high marks for vaccine procurement and awareness. Again, swing voter groups for both the Conservatives and New Democrats rank their performance as very high, meaning that criticisms around these aspects of the government's pandemic response will not resonate with the voters that both main opposition parties need to win over.
When it comes to performance on supporting small businesses, 61% felt the federal government did a good job, with the overall performance of the provinces being slightly lower at 57%. Among the provincial governments, Quebec received the highest marks, with 71% favouring the Legault government's efforts. Alberta saw the lowest satisfaction levels, with only 46% indicating the Kenney government has done a good job supporting small businesses.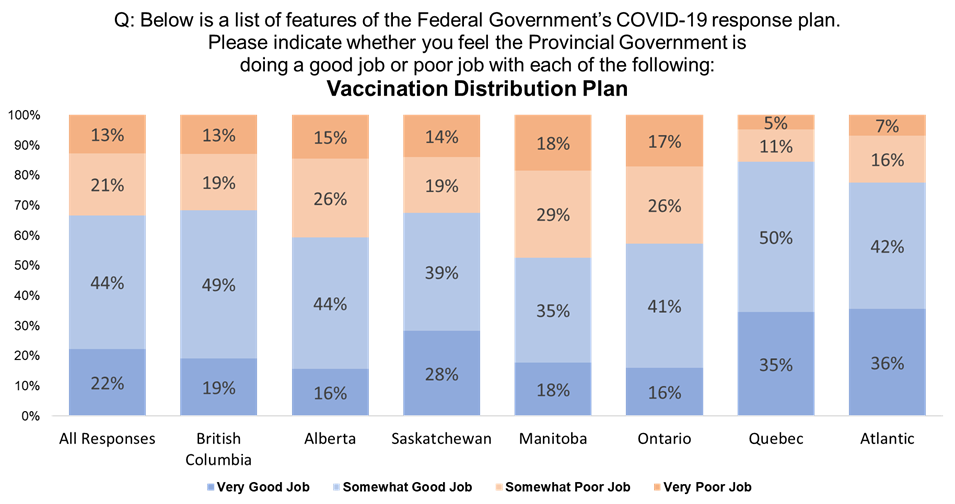 Quebec again takes top marks on vaccination rollouts, with 85% indicating their government has done a good job with the province's vaccination distribution plan. The province with the most negative sentiment on vaccine distribution plans was Manitoba, with only 53% believing their provincial government has done a good job. Note that this poll was conducted during a considerable wave of infections in that province.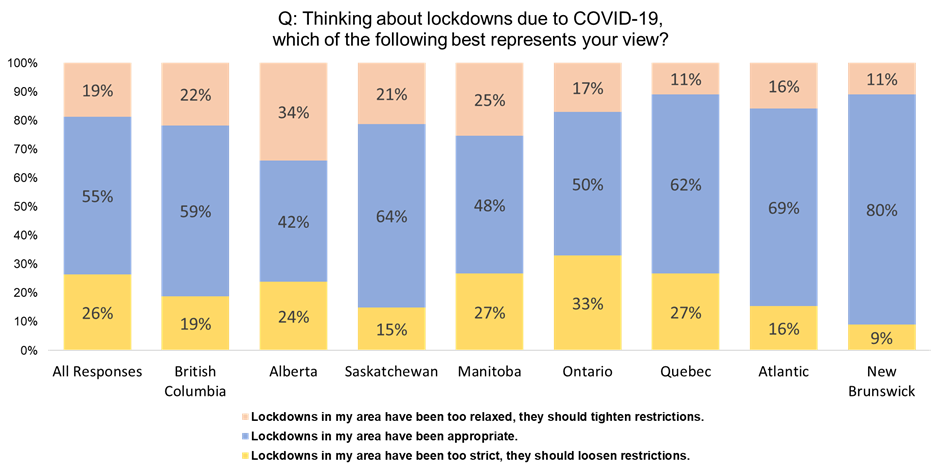 Concerning lockdowns, sentiments vary widely between provinces, and even between sub-provincial regions. The four Atlantic provinces collectively received top marks for the balance of their lockdown policies, with 69% indicating lockdowns in their area were appropriate. The province with the highest satisfaction levels is New Brunswick, with 80% favouring lockdowns in their area as appropriate.
On the other side of the spectrum, only 42% of Albertans believe restrictions have been appropriate. The gap between rural and urban Alberta was not especially large, with 45% of urban Albertans believing the restrictions have been appropriate, 36% believing restrictions have been too relaxed, and 18% believing restrictions have been too strict.
Methodology:
Counsel surveyed 3,175 people over the period of June 1 – June 4 2021 using the Lucid Exchange Platform, which blends a variety of partner panels. The margin of error for a comparable probability-based random sample of the same size is +/- 1.7%, 19 times out of 20.
Results are sub-regionally weighted for:
Age and birth sex according to the 2016 Census.
2019 Federal Vote.