Although many people wouldn't know it, there is a Conservative leadership race underway. This race will determine the person who will replace Andrew Scheer and lead the Conservatives into the next election. 
While the current Liberal minority government is plagued by the latest in a string of ethics violation scandals, the Conservative leadership race has also seen its share of fireworks, with the calling in of the RCMP on a hacking claim and plenty of attack ads and name calling. 
They say that "timing is everything in politics," and that makes the Conservative leadership vote, where ballots have to be mailed in by August 21st 2020, attention worthy. Instead of talking about job numbers and policies that will lead us out of an economic downturn, the Liberal government is now facing the Prime Minister's third serious ethics scandal with the recent revelations relating to the WE Charity. The conflict of interest scandal, which threatens to engulf the Liberals, involves a sole sourced contract to WE to administer almost a billion in government funding for volunteer programs. 
The ongoing issue of entitlement may very well be the Liberals' Achilles' heel. With rumours that the Liberals could call a snap election while they are riding high in the polls, now is the time to examine the underestimated but formidable options in the Conservative leadership race.
Who is in the race?
Peter MacKay –

MacKay led the Progressive Conservatives into the merger with the Canadian Alliance in 2003 forming the Conservative Party of Canada, and held several cabinet positions in Stephen Harper's government. Touted as the frontrunner, Peter MacKay enjoyed early endorsements from incumbent MPs. In the previous leadership race, however, endorsements counted for very little in terms of votes, outside of a handful of ridings with hard working local MPs. MacKay's campaign had several early missteps and may have been hurt by the party's decision to delay the leadership because of the COVID-19 pandemic. Notwithstanding, MacKay has the highest name recognition of the Conservative leadership contenders.

Erin O'Toole –

A three time MP from Durham (2012 by-election, 2015 and 2019), he is a former Canadian Armed Forces airman and spent a decade as a corporate lawyer. Erin O'Toole served as Parliamentary Secretary to the Minister of International Trade before becoming Minister of Veterans Affairs, a beleaguered file he successfully turned around within 10 months at the end of the Harper government. He ran to be leader of the CPC in 2017, coming in third. O'Toole kicked his campaign off in the heart of Conservative country in Alberta. He has dubbed himself "the true blue Conservative leader," despite having a record on the more moderate side of the party during his time in Ottawa. 

Dr. Leslyn Lewis –

Leslyn Lewis is a political newcomer who has turned heads with a strong performance setting herself up for a key role in the Conservative Party going forward if she chooses to stay involved, regardless of the outcome of the race.  Her family immigrated to Canada from Jamaica when she was 5 years old. Dr. Lewis holds a

Bachelor's Degree from the University of Toronto, a Masters in Environmental Studies from the Schulich School of Business at York University, and a JD and a PhD in Law from Osgoode Hall.

A Toronto lawyer with strong social conservative roots, Dr. Lewis is backed by notable politicians on the religious right including Ontario PC MPP Sam Oosterhoff and many

Saskatchewan MPs

. 

Derek Sloan –

A rookie MP from Eastern Ontario who is vying for support from social conservatives, Sloan has had a number of controversial encounters with reporters on his views on LGBTQ+ issues and has carved out a place as an outspoken provocateur on populist wedge issues.
The election format and who it helps:
What makes this race even more interesting is the ranked ballot system. Regional and ideological battles are playing out in the competition for the top spot.
The narratives for the ballot box question are not mutually exclusive. They are: Which leader appeals most to the Conservative base? AND Who can beat Justin Trudeau? The successful candidate has to win over rank and file party members before being able to take on the Liberal establishment. That person must be able to successfully rally members around both objectives.
Peter MacKay, who is known to be more of a centrist in Conservative circles, infamously called current party leader Andrew Scheer's socially conservative values a "stinking albatross." He later apologized, but not before Erin O'Toole earned the coveted endorsement of Premier Jason Kenney shortly after MacKay's cutting words. 
MacKay's strategy appears to be focused on broadening the base, rather than vying for other candidates' second choice votes. He is building support among Quebec ridings and well placed in areas where Conservatives don't traditionally enjoy much support. The party recently announced the largest growth in recent membership sales has come from Nova Scotia, Quebec, and Newfoundland, which could benefit MacKay. He is enjoying support from former Prime Minister Mulroney and his impressive and still existent political machinery and organization in these regions.
In addition to his own relatively strong support base, O'Toole is likely to benefit as a natural second choice for social conservatives. As first choice candidates drop off the ballot, their support will automatically move to other candidates on a ranked ballot. Many speculate social conservative votes from Lewis and Sloan will eventually go to O'Toole, possibly putting him over the top. 
O'Toole has been far more accepting than MacKay of the social conservative perspective within the "big blue tent" and has made inroads to these segments of the Conservative base. Yet he is personally moderate on social issues, has agreed to march in the Pride parades, and believes in marriage for all. 
O'Toole's campaign is also outpacing MacKay online. O'Toole has attracted well-known juggernauts in the digital campaign space including support from the founders of the Proud Network of social media pages, that run meme style information and conservative leaning commentary, to bolster his online presence. 
It is possible that Dr. Leslyn Lewis and Derek Sloan have set themselves up to be the kingmakers in this race, as they sold thousands of new memberships to those that describe themselves as social conservatives.  Expect to see Sloan drop off first, although he may achieve double digit support. 
Don't be surprised if Dr. Lewis punches well above her weight. Dr. Lewis has been flying under the media's radar and quietly gaining ground. Winning the race is not outside the realm of possibility though she is a long shot. If there is aggressive strategic voting she may receive first ballot support votes from supporters of either of the two front runners because they anticipate she will eventually drop off and want to give her a boost. Her fundraising numbers during the last quarter were almost on par with the other candidates and she had an impressive number of small-dollar donors, though this doesn't necessarily translate into electoral success in a leadership race. It remains to be seen if this is simply a strong pocket of support or spread out.
The Conservative Party announced that 270,000 people are eligible to vote in this leadership election and 100,000 memberships have been sold since the start of the year.The ability of the CPC to appeal to new members, and grow to the largest in their history, shows the energy in the party. 
The membership is diverse. I believe having prominent social conservatives in the leadership campaign is not a negative but a testament to the diversity within the party, despite how detractors on the left would frame it. Dr. Lewis' nuanced positions don't fit into how progressives like to try to brand their opponents. If O'Toole wins with the support of Dr. Lewis' supporters, his leadership would likely be similar to Harper's approach to social issues. 
The deadline to purchase a Conservative party membership to vote was May 15th, 2020. With only one set of debates in English and French, the main contenders' performances did not seem to shift much ground among Conservative members. Since then, Peter MacKay has declined to participate in grassroots debates, employing a classic front-runner's strategy to avoid any unforced errors in the lead-up to the vote.
Voting will take place as in a One-Member, One-Vote Point System where:
Each Electoral District is worth 100 points.
Candidates are assigned a point total based on his or her percentage of the vote in each Electoral District.
To win, a Candidate must obtain a majority of points from across the country.
Balloting shall be conducted by Preferential Ballot (single transferable vote). Mail in ballots will be used and there may be some limited in-person polling stations.
The results of the election will be announced as soon as the ballots can be properly processed and examined by scrutineers while respecting any health guidelines in place at that time.
In my opinion, the biggest mistake we keep making as Conservatives is waiting for a leader who ticks all the boxes, looking for the perfect combination of a policy wonk, inspiring orator, regional connector, and appealing to a young and diverse demographic. Instead of waiting for that ideal leader to land on the scene, Conservatives would be well advised to empower the caucus and membership to work with the new leader, whoever he or she turns out to be, and promote the winning elements of the strong team that has been formed.
With just over a month to go, ballots are currently hitting the party members' mailboxes. Conservative members should plan to vote early as ballots are cast by snail mail. The results will shape the face of the Conservative movement and boost the party's momentum in the lead up to the next election. And if there is a fighting chance for the Conservatives to oust the reigning Trudeau Liberals, it's when the governing party is knee deep in scandals and can't seem to understand why.
Insights by Amber Ruddy, Director, Western Canada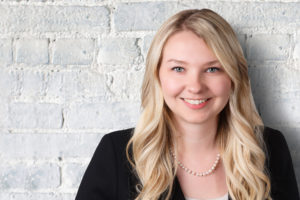 Amber is a dynamic and seasoned government relations and communications professional with over 8 years of experience in business advocacy at all three levels of government. Her experience includes working for a federal Conservative cabinet minister and for a small business association as the Director of Provincial Affairs for Alberta. She is an active member of the Conservative Party of Canada, a local riding association board member, and volunteer.
Image credit: CBC News Federal Conservative Leadership Debate | Power & Politics